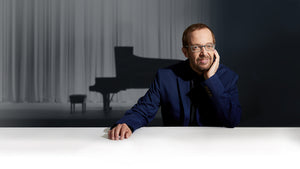 A Modern Master of Melody
Drawing equally from a wealth of training in both classical and jazz, Kevin Kern's music encourages the listener to imagine the landscapes he describes through his playing.
Pianist and Composer
Kevin Kern
Kevin Kern has been creating music for as long as he can remember. Legally blind from birth, Kevin was mentored by world renowned jazz legend, Sir George Shearing.  Shearing, who was also blind, encouraged Kevin's love of improvisation and, most importantly, showed him the importance of leaving space in his phrases in order to "allow the music to breathe".  This key lesson, together with years of classical training,  combined to create his signature melodic style. Kevin's music encourages the listener to imagine the world he describes through a process he calls "Sound Painting," where Kevin uses the piano to paint evocative musical pictures for his listeners.
Critically Acclaimed pianist
Steinway Artist
Kevin's music first gained international attention through the groundbreaking Korean drama, Autumn In My Heart, which has been seen by over 100 million viewers in more than 40 countries.  His growing popularity earned him an invitation to become a Steinway Artist, further cementing his relationship to the instrument at the heart of his creative process.
One billion+ streams worldwide
Billboard® Artist
Beginning with his phenomenally successful debut album, In The Enchanted Garden, Kevin has released a series of Billboard® charting recordings, including three in the Top 10, which have garnered more than one billion streams globally. He can be heard on all the major streaming platforms including Spotify, Pandora, Apple Music, and more.
Global Touring Artist
On Stage
Kevin has delighted audiences in concert halls throughout the US and around the world.  Highlights include playing for the G20 Summit ('Road for Hope' global concert event), touring with Britain's Got Talent winner Paul Potts, and headlining the Pyeongchang Special Music Festival held in conjunction with the 2014 Winter Special Olympics.
Featured Music
TV & Commercials
Kevin's music has appeared in settings ranging from the groundbreaking Korean drama, Autumn In My Heart, which began the now famous "Korean Wave" to Germany's Let's Dance (part of the Dancing With The Stars global franchise) as well as The Late Show, Oprah, the Summer Olympics and programs for NPR, PBS and the BBC World Service.  He can also be heard in commercials for Mitsubishi, Blue Cross, United, and Singapore Airlines among others.

His music has been further popularized through covers by artists like Asian pop star Joey Yung, whose hit song, "The Best Time" features lyrics to Kevin's well known composition, "Pastel Reflections". 
In the Media
Television
Let's Dance (Dancing with the Stars)
Song - "Childhood Remembered"
Watch the Video
Video
Pop star Joey Yung's The Best Time
Song - "Pastel Reflections".
Watch the Video
Commercials
Mitsubishi Ad Campaign "The Happiness of Trust"
Song - "Through the Arbor"
Watch the Video